October 16, 1991 - Mississippi Nights, St. Louis, MO, US
LIVE NIRVANA Concert Chronology October 16, 1991 - Mississippi Nights, St. Louis, MO, US
Artist
NIRVANA

Kurt Cobain (vocals, guitar)
Krist Novoselic (bass)
Dave Grohl (drums, backing vocals)
Crew
Monty Lee Wilkes (tour manager)
Craig Montgomery (sound engineer)
Myles Kennedy (monitor engineer & drum technician)
Nic Close (guitar technician)
Schedule
Load In

…:…

Soundcheck

…:…

Doors

20:00

Urge Overkill Showtime

…:…

NIRVANA Showtime

…:…
Soundcheck
No Info
Set incomplete
Jesus Wants Me For A Sunbeam

Aneurysm

Drain You

School

Floyd The Barber

Smells Like Teen Spirit

part of

Smells Like Teen Spirit

About A Girl

Breed

Polly

Sliver

Love Buzz

Come As You Are

Been A Son

Negative Creep

On A Plain

Blew
Set Range
Circulating Recordings
No Info
Uncirculated Recordings
AMT #1
It is rumored that the show was recorded.
AUD #1
It is rumored that the show was recorded.
Notes
The set above comes from the band's handwritten setlist.
The songs "Lithium" and "Territorial Pissings" may have also been played, according to a review.
Nirvana had destroyed some of their equipment, including Dave's drums, four nights prior in Chicago, so they borrowed some of opening band Urge Overkill's equipment for this show.
Toward the beginning of the show, the crowd repeatedly erupted into frenzied slam dancing and people were being launched into the air. The bouncers on the stage were trying to absorb the flying crowd members and were being quite rough on them. When Kurt was eventually hit by someone from the crowd, he stopped playing and could be heard cursing off mic. Krist pleaded with the crowd to "mellow out." After this scenario repeated itself about four times, Kurt stopped the band and yelled about a bouncer stepping on his distortion pedal and breaking it. Once a replacement was found, the show resumed, but the crowd didn't mellow out. When the band had to stop playing a fifth time, Kurt yelled, "Fuck it! You all want to get up on the stage? Well come on up!" The entire crowd swept up onto the stage, and the bouncers and Dave left the stage, leaving Kurt and Krist clutching their instruments against their bodies as the equipment was slammed back against the wall. After about 15-20 minutes of chaos, Krist asked the crowd to leave the stage so they could play some more. The crowd started filing off the stage, and the house lights came on. Eventually, everything was set back up, and the band played for another 45 minutes without further problems. The club stayed open late so they could finish their set. Dave later claimed the band had repeatedly and unsuccessfully requested the security guards to stop being rough with the crowd, so they retaliated by inviting the crowd onstage.
Krist Novoselic came up on stage with a mask and told to the crowd "Don't be like the GnR crowd because shit attracts flies", referring to the GnR riot at Riverport.
The band stopped playing "Smells Like Teen Spirit" because the security was being rough with the crowd.
Press Reviews
Memorabilia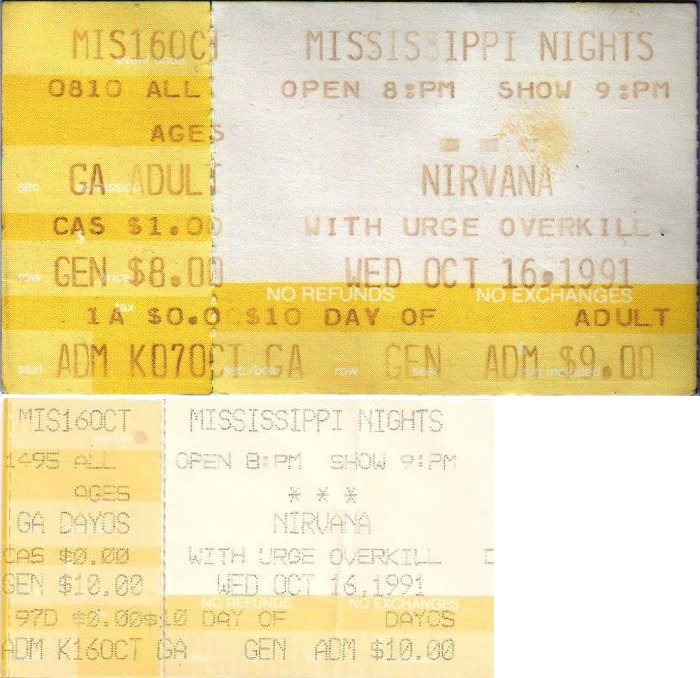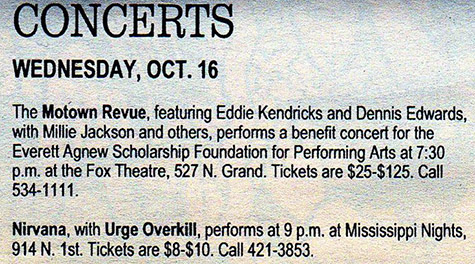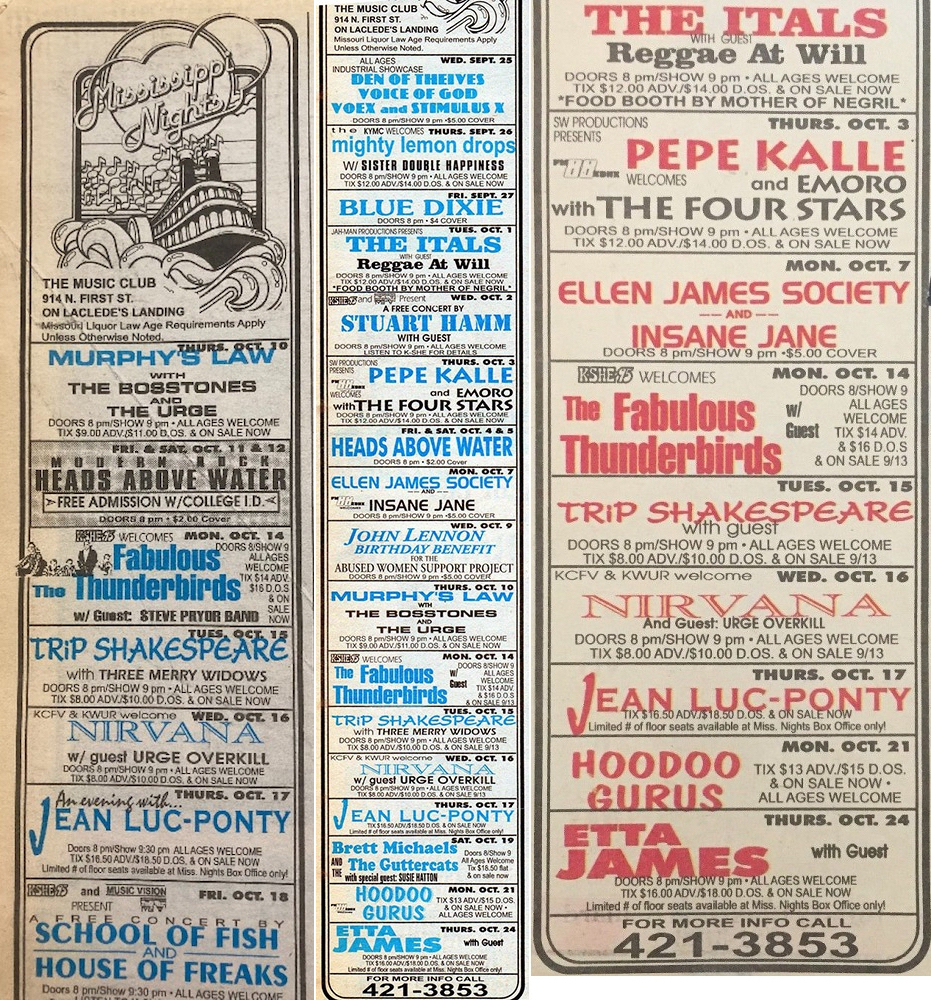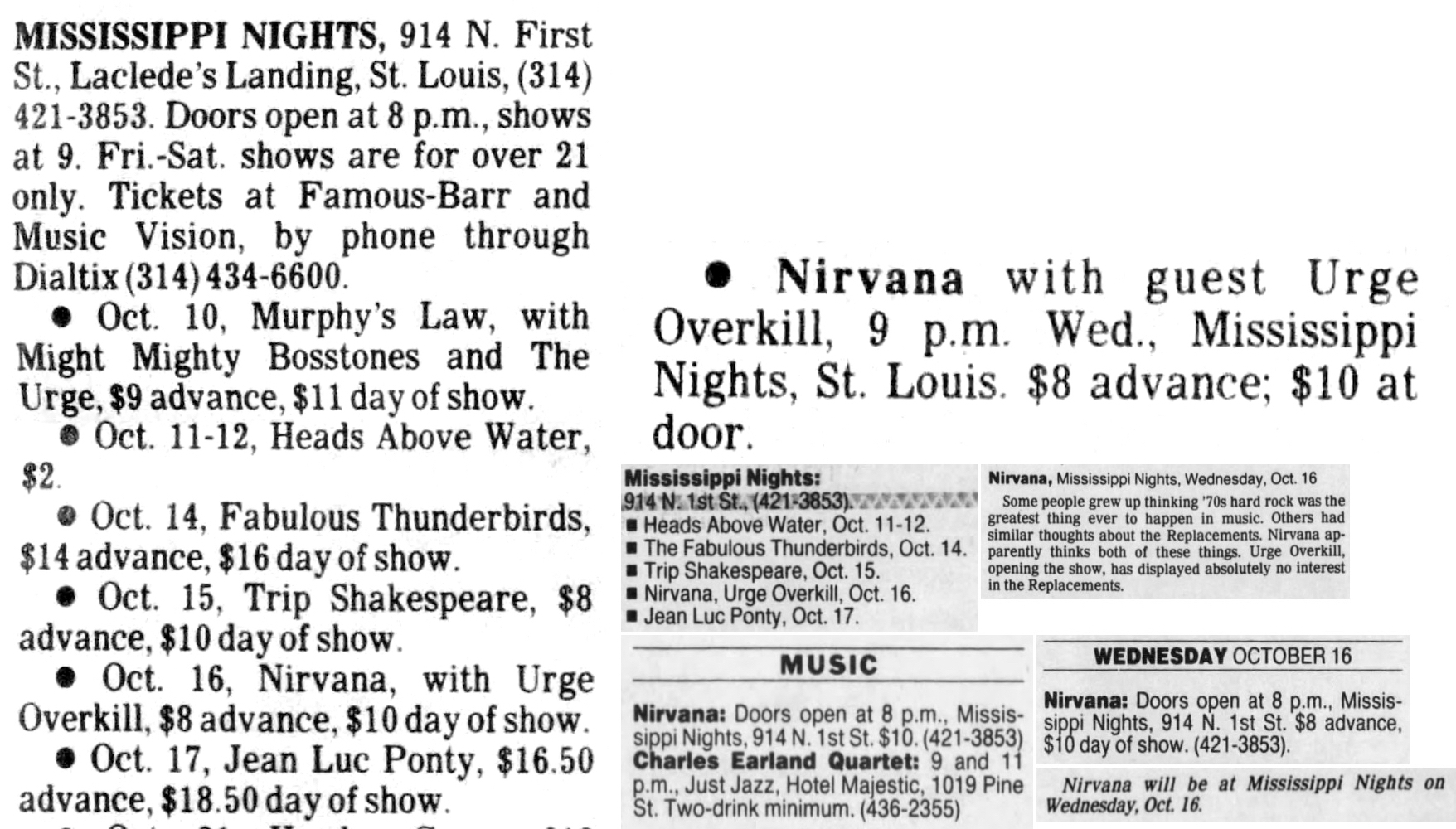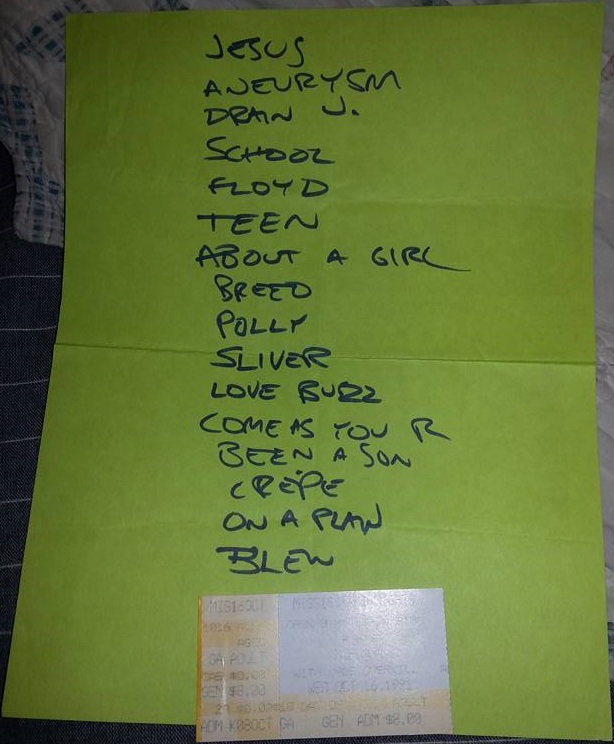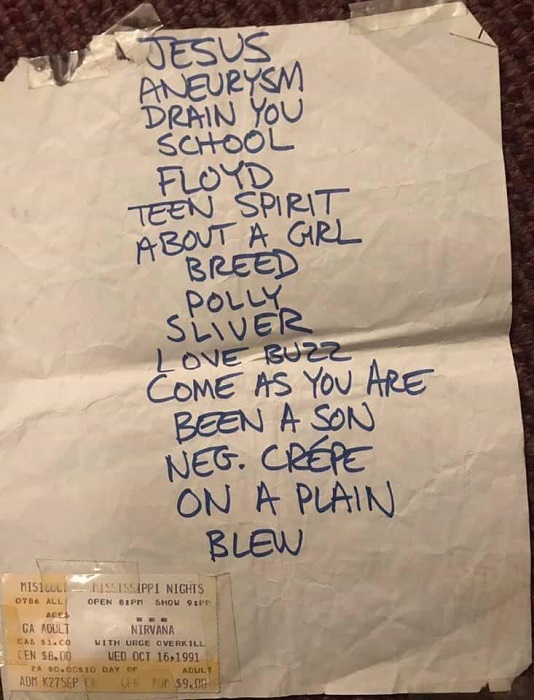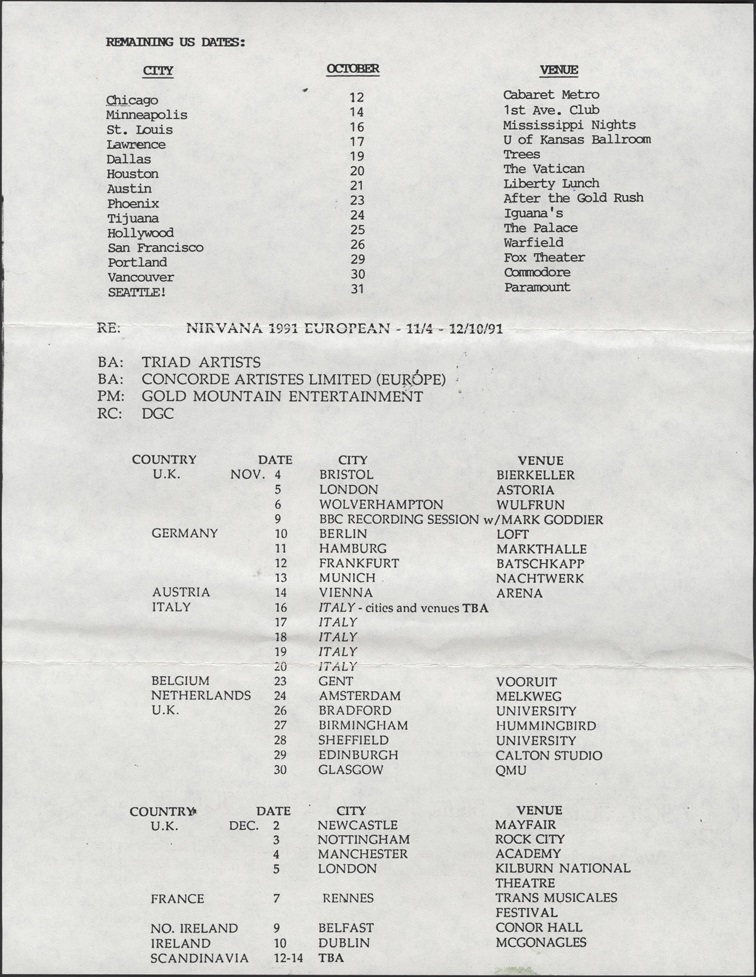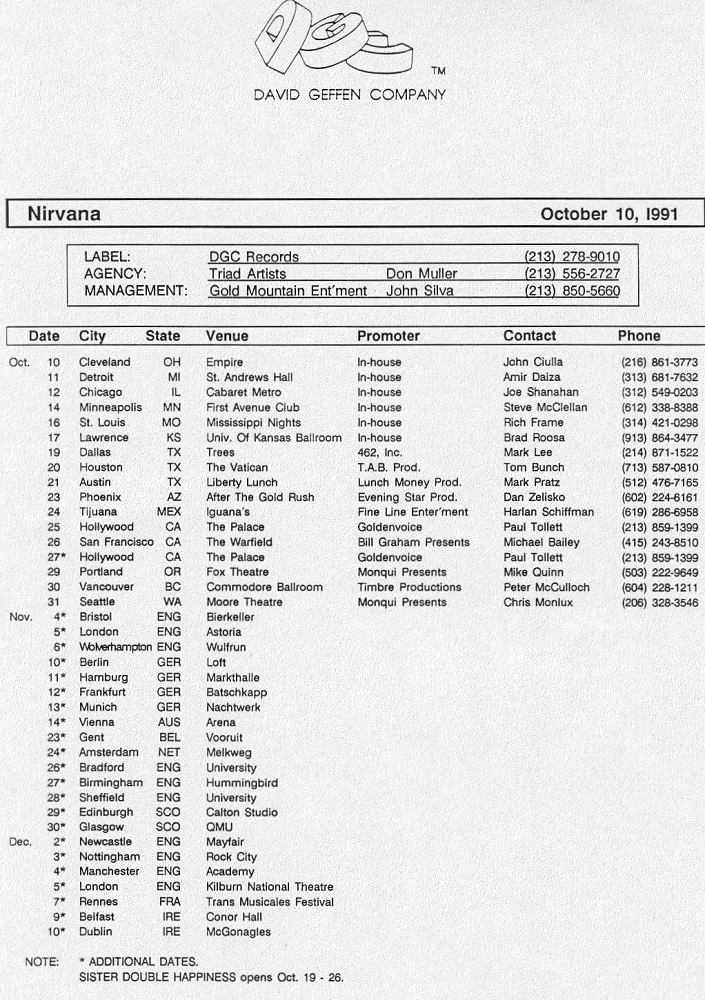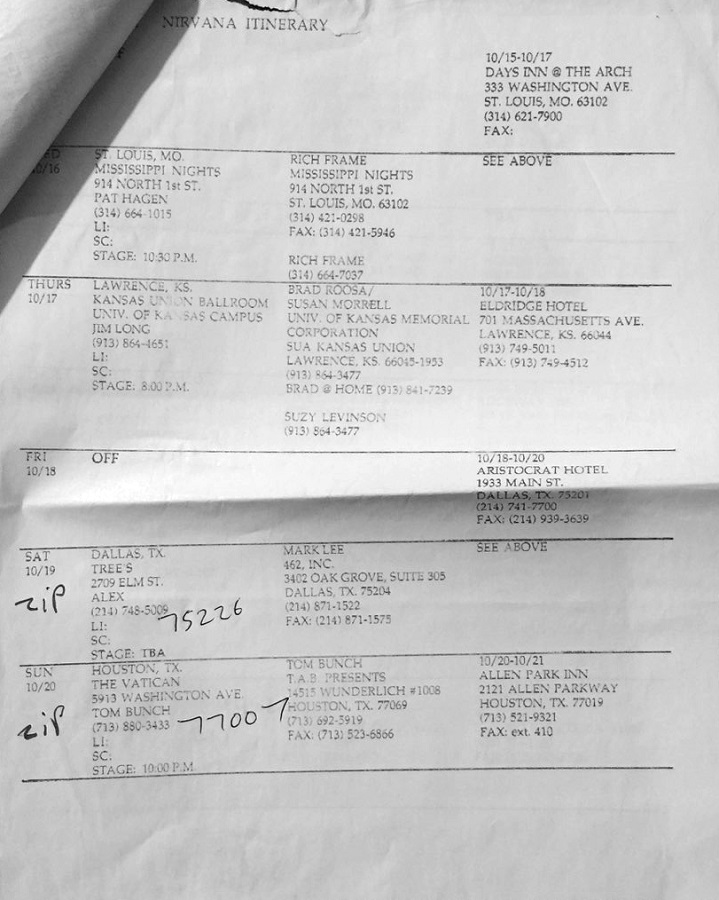 ---