September 26, 1991 - The Moon, New Haven, CT, US
LIVE NIRVANA Concert Chronology September 26, 1991 - The Moon, New Haven, CT, US
Artist
NIRVANA

Kurt Cobain (vocals, guitar)
Krist Novoselic (bass)
Dave Grohl (drums, backing vocals)
Crew
Monty Lee Wilkes (tour manager & sound engineer)
Myles Kennedy (monitor engineer & drum technician)
Nic Close (guitar technician)
Schedule
Load In

…:…

Soundcheck

…:…

Doors

…:…

Hed Showtime

…:…

Melvins Showtime

…:…

NIRVANA Showtime

…:…
Soundcheck
No Info
Set
Jesus Wants Me For A Sunbeam

Here She Comes Now

D-7

Aneurysm

Drain You

School

Floyd The Barber

About A Girl

Love Buzz

Smells Like Teen Spirit

Breed

Polly

Spank Thru

Sliver

Blew

jam

Blew

Been A Son

Negative Creep

Endless, Nameless
Set Range
Circulating Recordings
Equipment:

Unknown > Sony WM-D6

Lowest Generation:

ANA(1) > FLAC

Length / Sound Quality:

72 min / 9.0

Notes:

• In December 2011 a ANA(1) upgrade was circulated.
• In July 2008 it was discovered that the supposed ANA(M) > DAT(2) was sourced from the "Playing At The Moon" bootleg CD.
Equipment:

Built-in > Unknown

Lowest Generation:

VHS(M) > DVDR(1)/FLAC

Length / Sound Quality:

43 min / 7.5

Notes:

• In January 2009, the master tape was circulated.
• Missing everything after "Polly".
• Has cuts in "Aneurysm", "Love Buzz" and "Polly" cuts out.
• The circulating video includes all that was recorded because the taper's battery died.
Uncirculated Recordings
No Info
Notes
When Nirvana came out Kurt had a big bowl of fruit salad from backstage. He pretended to throw into the audience, but he just turned the bowl over right in front of him.
At the beginning of the show, a bit of Led Zeppelin's "Dazed And Confused" was jammed on.
The band started playing "Blew," but ended up jamming on the song for a while because Kurt had guitar problems, as he did the entire night. Once Kurt got his guitar working again, the band played all of "Blew" from the beginning.
Towards the end of the show, the guitar amps started breaking down and the band started throwing cantaloupe and other fruit at the audience who, in turn, threw it back, according to an attendee.
Press Reviews
Memorabilia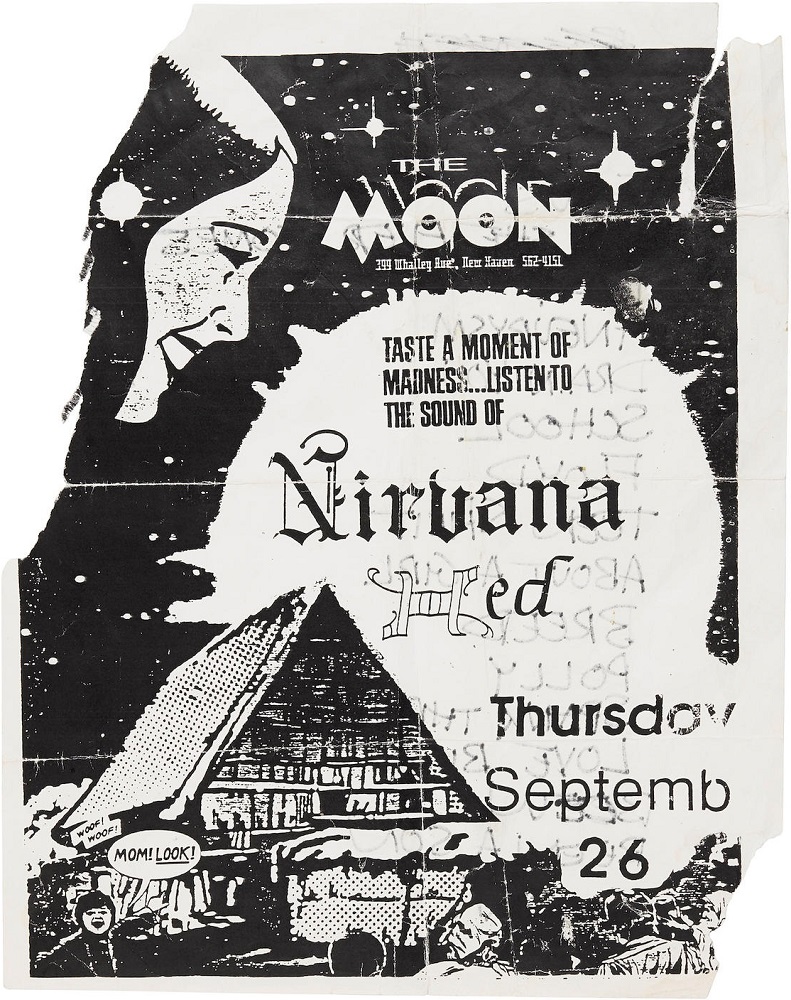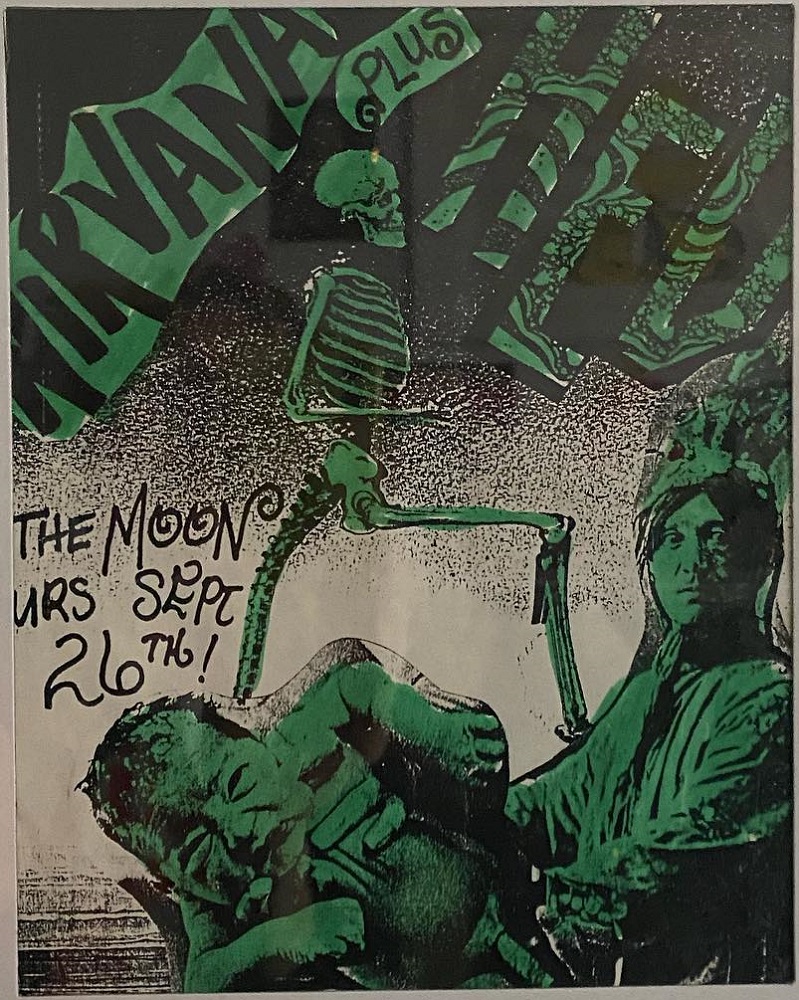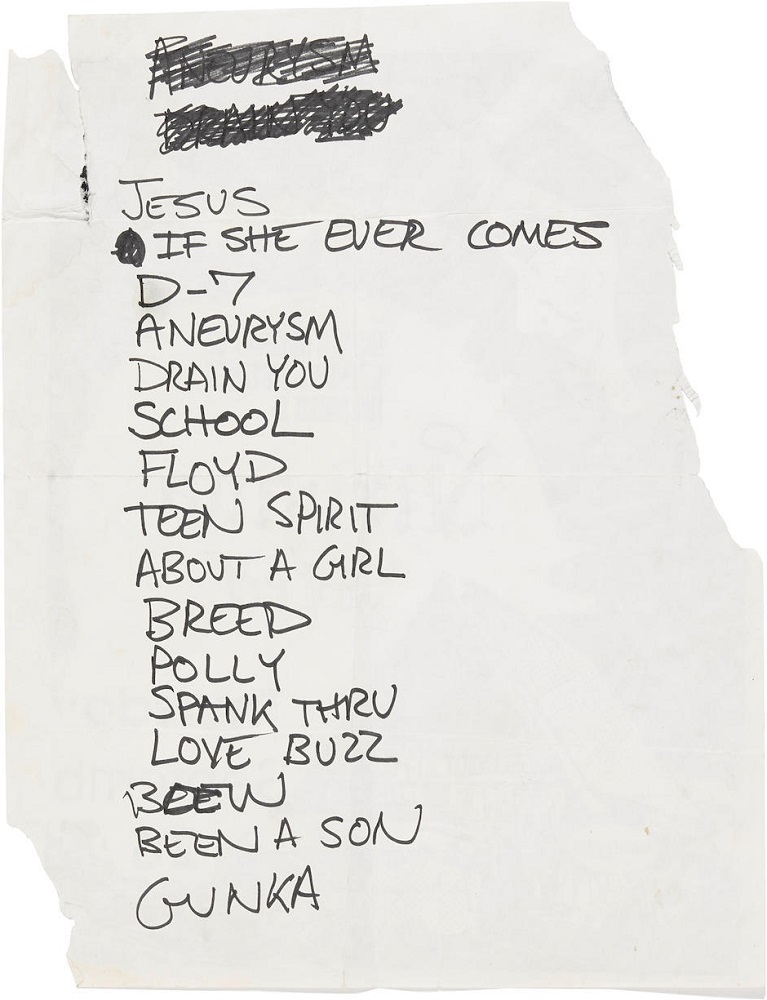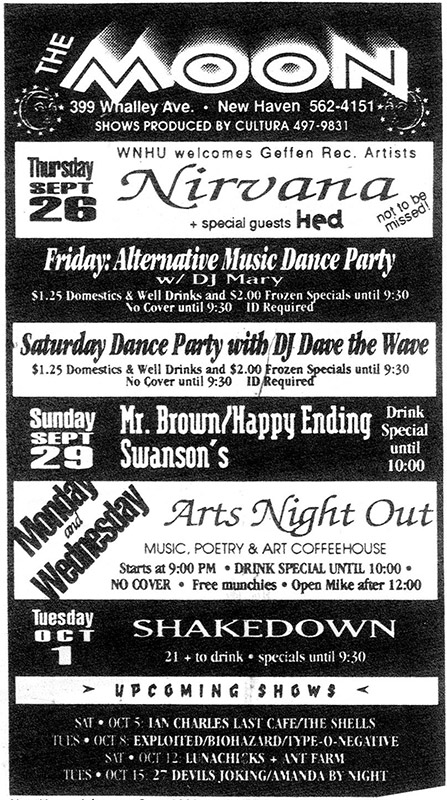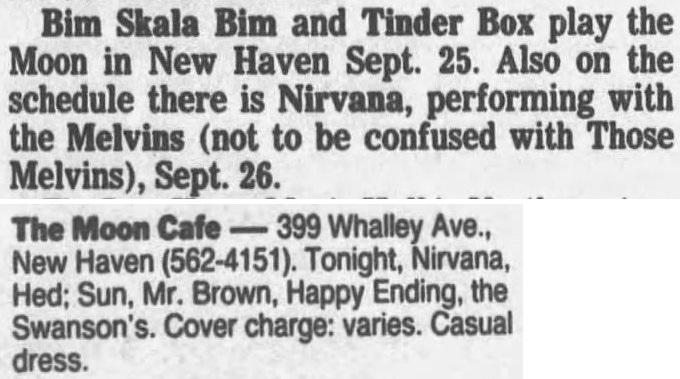 Images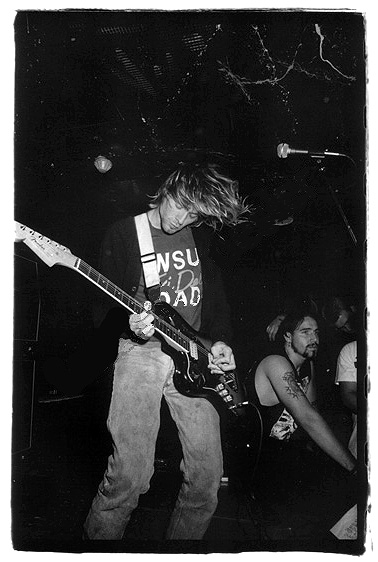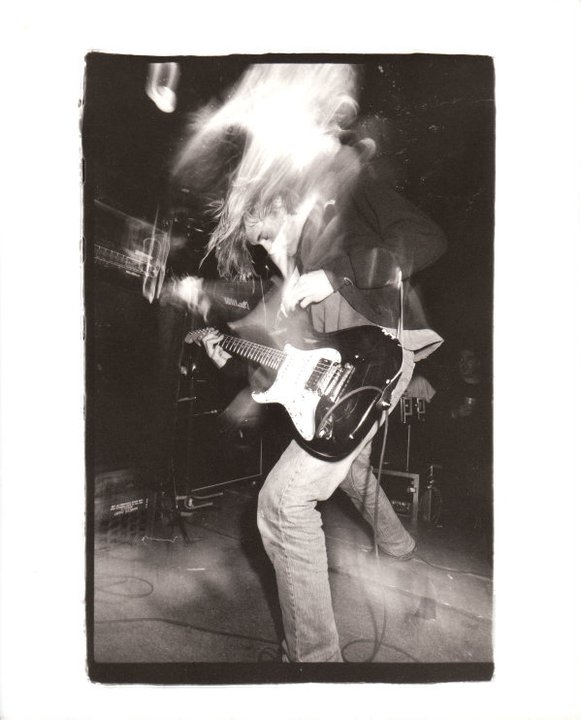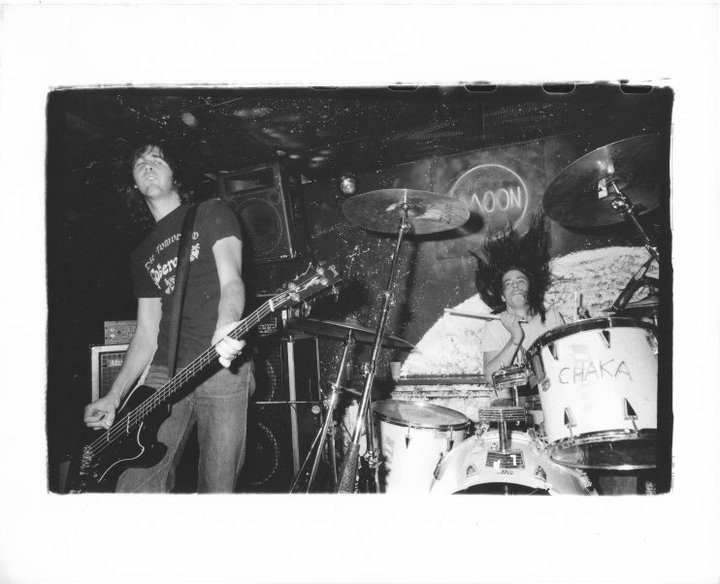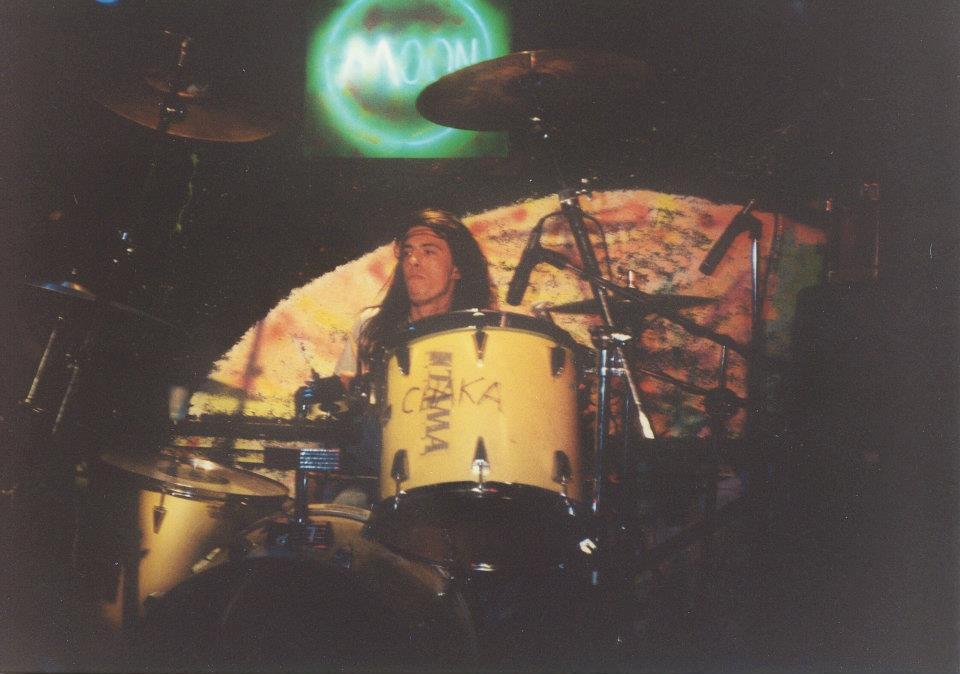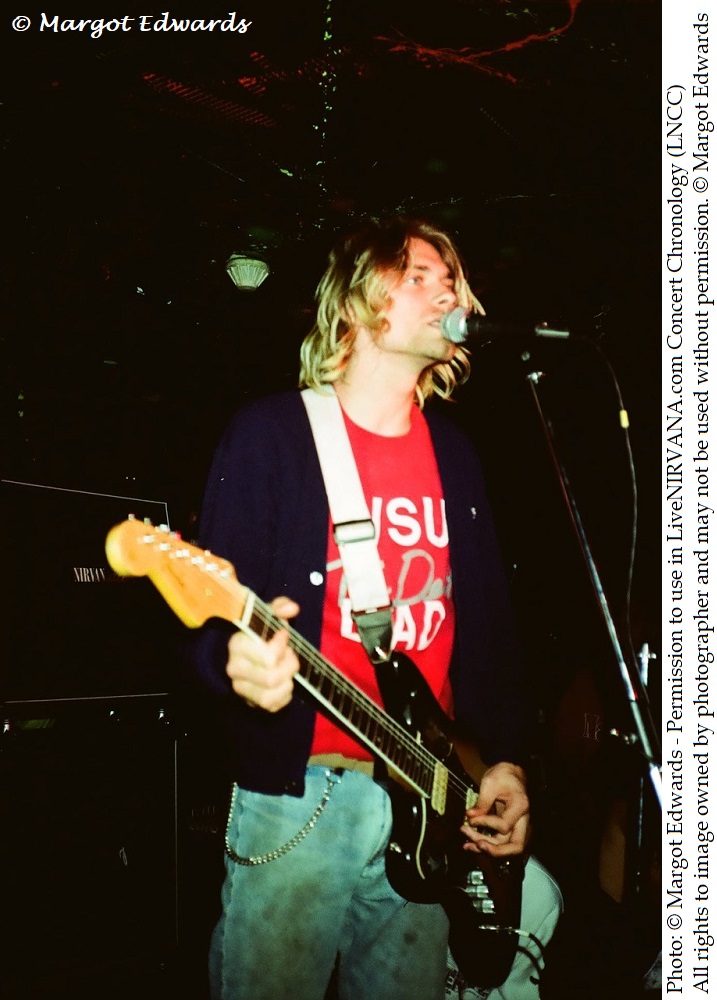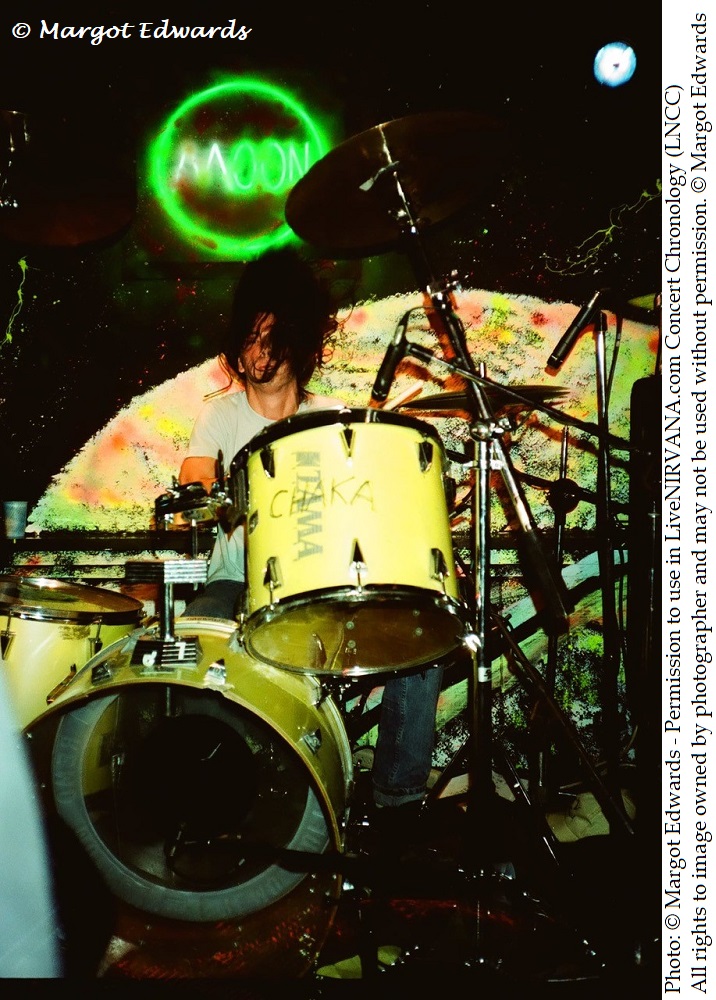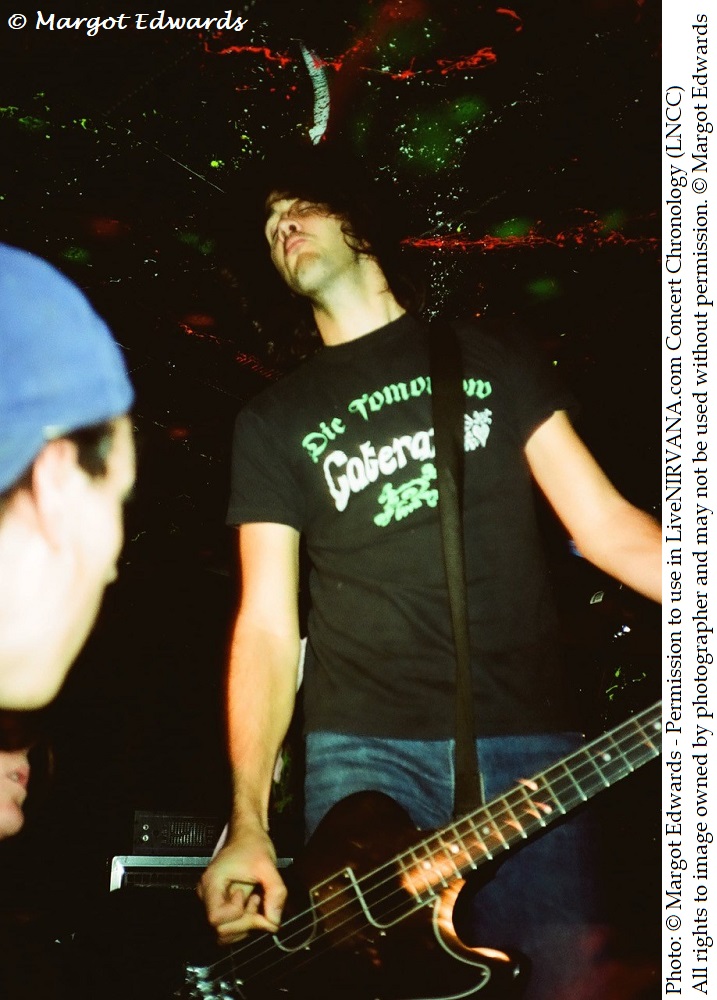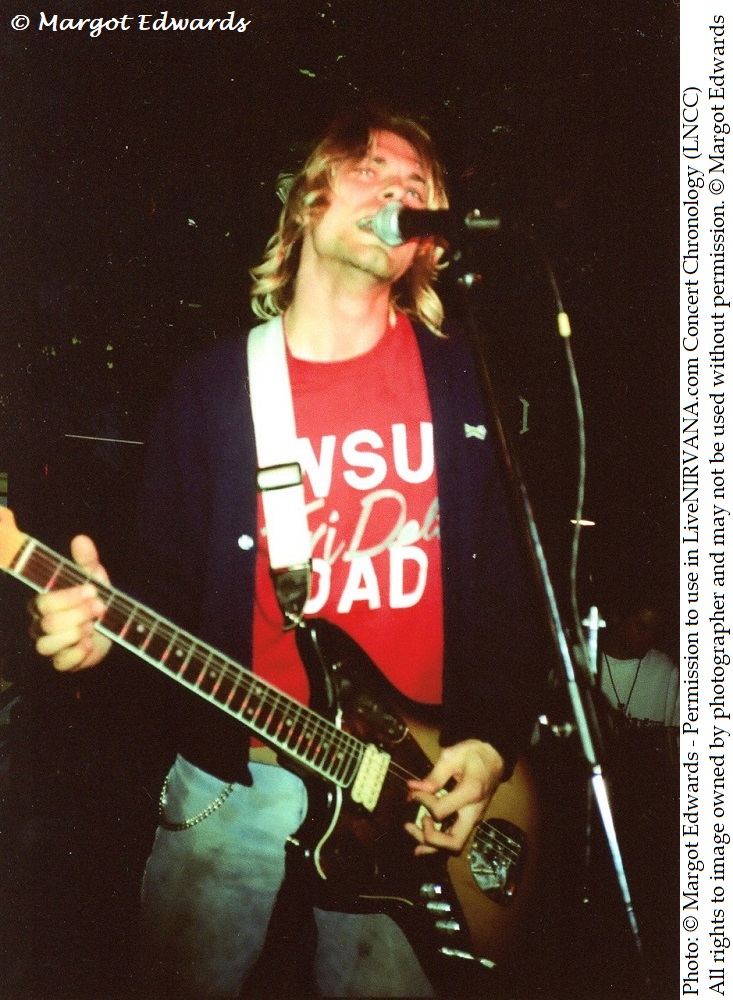 ---