Pat Smear
LIVE NIRVANA EQUIPMENT GUIDE Pat Smear
NIRVANA guitar technician, Earnest Bailey, talks to Alex Roberts about Pat Smear's guitar rig—Exclusive!
Strings
Ernie Ball Strings

John Pearse Strings

Pat used Ernie Ball Super Slinky 2223 Nickel wound strings on his electric guitars and John Pearse 200L 80/20 Bronze wound strings on his acoustic.
Guitars
1982 Charvel Stratocaster, in Natural

This was bought for Pat by Nina Hagen.

Mosrite Mark V, in Blue

Kurt Cobain gave Pat his water damaged blue Mosrite Mark V and Pat used it for Saturday Night Live. The electronic controls needed replacing as they had rusted beyond salvage.

Hagström HIIN, in Red

This was purchased at Guitar Center in December 1980 for $125. It was extensively reworked, with a Duncan JB in the bridge position, a 59 in the neck position, new tuners and large metal knobs.

Fender Stratocaster, in Midnight Blue

This was US-made and had a maple fretboard. We changed it to a black pickguard, with black Duncan JB in the bridge position and white covers on the stock neck and middle pickups—similar to Kurt's black "Vandalism" Strat, but a blue/black color scheme.

Fender Stratocaster, in Black

This Strat was nicknamed "Glossy." It was US-made, with a locked-down Floyd Rose bridge and a black DiMarzio pickup.

Fender Stratocaster, in Black

Pat had a few Mexican Strats, most of them black. Midway through the In Utero tour, Pat modified the look of one of them, which he affectionately named "Flopsy," using several different colors of nail polish and covering it with polka dots and smiley faces.

Harmony Buck Owens American

This belonged to Krist Novoselic and was purchased at Guitar Maniacs in Tacoma. Pat used it for the tour and Unplugged. It was outfitted with the same Bartolini pickup as Kurt's Martin D-18E.

Guild BM01 Brian May Signature/Pro, in Red

This was played in San Diego, and possibly at the L.A. Forum show as well.

Hagström III, in Black

This was purchased at Freedom Guitar in L.A.. The stock bridge pickup was replaced with a black Duncan JB and the chrome rings painted black with nail polish.

Hagström I, in Blue

This had a Gibson tune-o-magic bridge.

Hagström XII, in Black

This was purchased at Guitar Castle in Salem, Oregon. It had a Gibson humbucker, one volume knob and a replaced pickguard. Pat played it in Europe as a 6-string.
Effects
Boss DS-2

Electro Harmonix Small Clone

Tech 21 SansAmp

Electro Harmonix Memory Man

MXR Distortion +

ProCo Turbo Rat

DOD Chorus

This made up Pat's pedal board.
Amplification
Mesa Boogie Studio Preamp w/ Crest 4801 Power Amp

Pat's Nirvana rig held up very well and was used for many early Foo tours, before switching to stock Peavey 5150 amps.

Marshall 4X12 cabs

Pat got Kurt's old 4X12s with the Celestion 75s when Kurt received new ones with the Vintage 30s.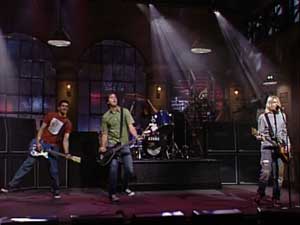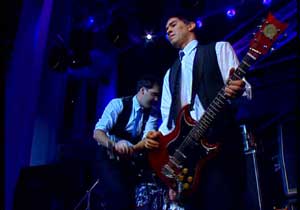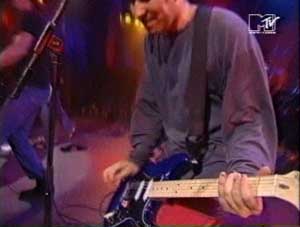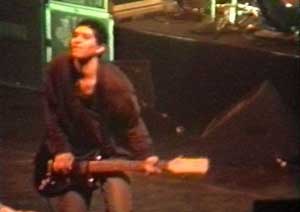 ---
© 2003–Present:
Alex Roberts
.
No part of this article may be reproduced without the prior written permission of the author
.
---