Jason Everman
LIVE NIRVANA EQUIPMENT GUIDE Jason Everman
NIRVANA guitarist, Jason Everman, talks to Alex Roberts about his guitar rig—Exclusive!
Guitars
Warmoth Stratocaster

1985 Warmoth Strat body with a 1980 Fender Lead II neck. Bridge pickup was a SH-1B.

Fender Telecaster

1974 Fender Telecaster with a Seymour Duncan SH-1B pickup bridge, Gibson PAF (covered) neck. I made a pickguard out of a Venom At War With Satan LP. I love that album, but also tongue firmly in cheek.

Gibson Les Paul Studio

1977 Gibson Les Paul Studio with a Univox humbucker in the bridge position. Kurt gave me this pickup, kind of his passive-aggressive way to make my guitar sound more like his. I tested the pickup, and it's actually as hot as a Gibson PAF, so it was more an aesthetic move than anything.
Effects
Boss DS-1

Distortion.

DoD FX-17

Wah.

Morley Fader

This would fade between the Marshall and the Fender, blending the two sometimes, rather than the binary A/B box.
Amplification
Marshall JCM 800 Lead Series head + Marshall 4×12 speaker cab

For heavy/distorted sound.

Fender Super Twin Reverb

For clean sound.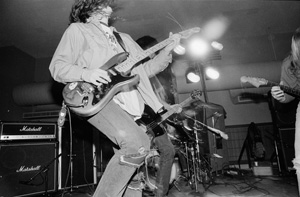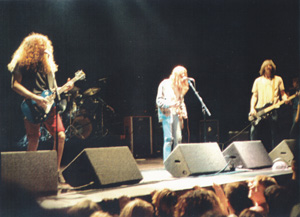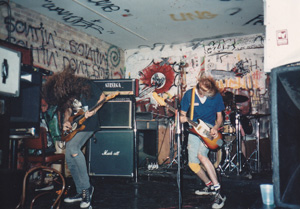 ---
© 2003–Present:
Alex Roberts
.
No part of this article may be reproduced without the prior written permission of the author
.
---