October 05, 1991 - 40 Watt Club, Athens, GA, US
LIVE NIRVANA Concert Chronology October 05, 1991 - 40 Watt Club, Athens, GA, US
Artist
NIRVANA

Kurt Cobain (vocals, guitar)
Krist Novoselic (bass)
Dave Grohl (drums, backing vocals)
Crew
Monty Lee Wilkes (tour manager & sound engineer)
Myles Kennedy (monitor engineer & drum technician)
Nic Close (guitar technician)
Buyer
Jared H. Bailey
Velena Vego
Schedule
Load In

…:…

Soundcheck

…:…

Doors

…:…

Das Damen Showtime

…:…

NIRVANA Showtime

…:…
Soundcheck
No Info
Set incomplete
Jesus Wants Me For A Sunbeam

Aneurysm

Drain You

School

Floyd The Barber

Smells Like Teen Spirit

About A Girl

Breed

Polly

Sliver

Rape Me

Pennyroyal Tea

Love Buzz

Blew

Been A Son

Negative Creep

Endless, Nameless
Set Range
Circulating Recordings
No Info
Uncirculated Recordings
AMT #1
It is rumored that the show was recorded, but the tape was damaged in a flood. It's not know if copies were made.
AUD #1
It is rumored that the show was recorded.
Notes
Most of the set above comes from the band's handwritten setlist.
The band was drunk and out of tune, but the show was apparently incredible, according to attendees.
During "Endless, Nameless," Kurt starts playing guitar while crowd surfing, reaches up, grabs the the movie projection screen and ripped it out of the ceiling, inciting the crowd to get onstage with the band and trash everything. Meanwhile, Dave kicked his drums over, then piled them up in no particular order and played them with microphones. After the noise and destruction, the band piled their instruments onto the drums, wished the crowd a good night, and left the stage, according to an attendee.
Press Reviews
Memorabilia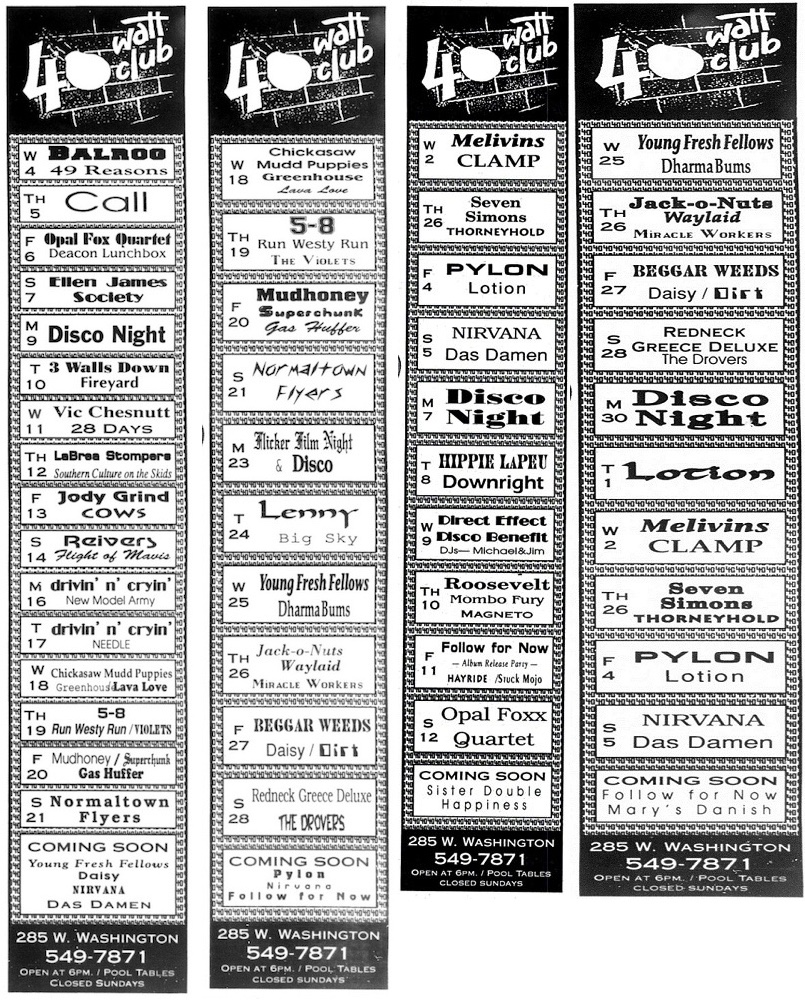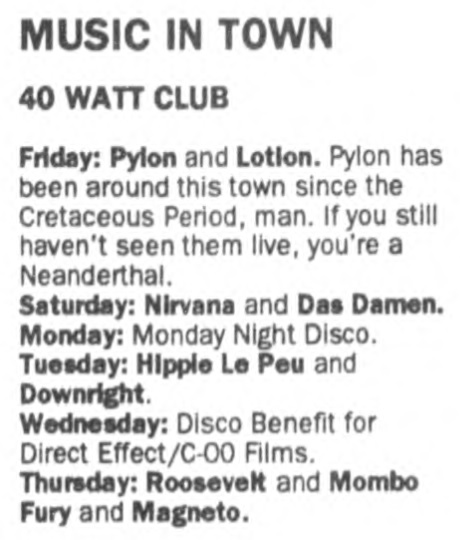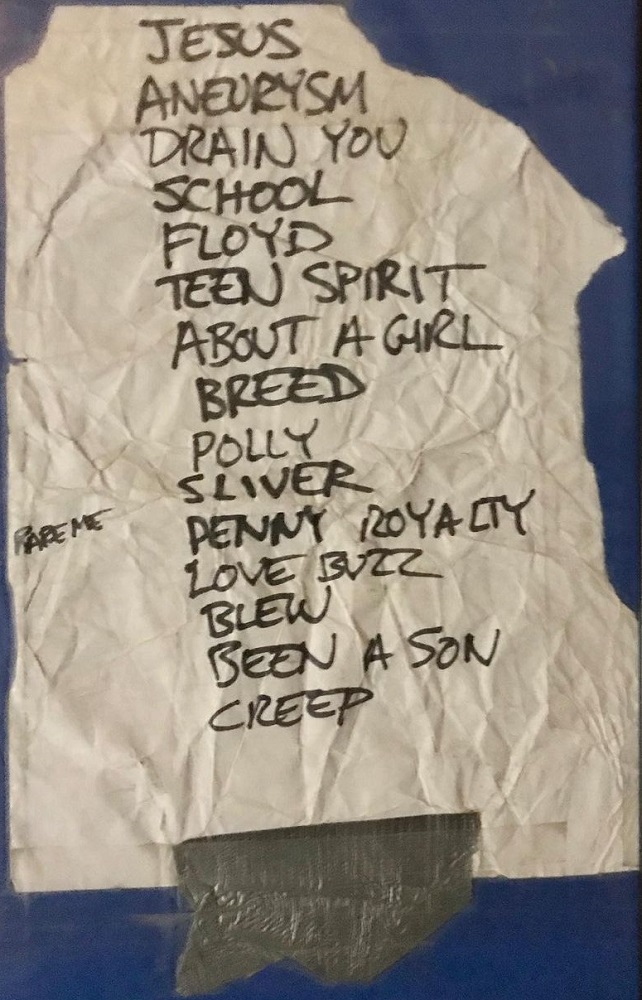 ---