August 16, 1990 - Calamity Jayne's Nashville Nevada, Las Vegas, NV, US
LIVE NIRVANA Concert Chronology August 16, 1990 - Calamity Jayne's Nashville Nevada, Las Vegas, NV, US
Artist
NIRVANA

Kurt Cobain (vocals, guitar)
Krist Novoselic (bass)
Dale Crover (drums)
Schedule
Load In

…:…

Soundcheck

…:…

Doors

21:00

STP Showtime

…:…

NIRVANA Showtime

…:…

Sonic Youth Showtime

…:…
Soundcheck incomplete
In Bloom
Set
No Info
Set Range
Circulating Recordings
No Info
Uncirculated Recordings
AUD #1
A recording of STP's set is circulating, so it's possible that Nirvana's set was recorded as well.
PRO #1
Sonic Youth's set was shot by Dave Markey, so Nirvana's set may have been video taped as well.
Notes
This was the first show of a short tour with Dale Crover on drums.
The band jammed on a song by The Crucifucks at the soundcheck, according to Sonic Youth drummer Steve Shelley.
Nirvana played for about 30 minutes.
There were about 300 people at the show, according to a review.
Press Reviews
Memorabilia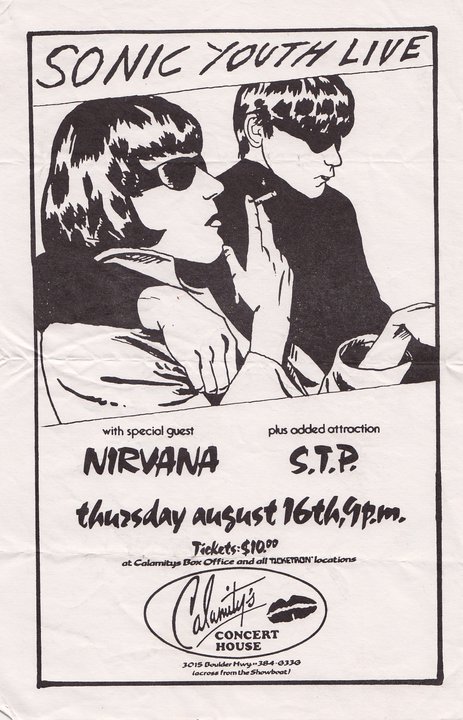 ---