May 3, 1986 - GESSCO, Olympia, WA, US
LIVE NIRVANA Concert Chronology May 3, 1986 - GESSCO, Olympia, WA, US
Artist
Brown Towel/Brown Cow

Kurt Cobain (vocals)
Buzz Osborne (guitar)
Dale Crover (drums)
Schedule
Load In

…:…

Soundcheck

…:…

Doors

…:…

Brown Towel/Brown Cow Showtime

…:…

Grinder Showtime

…:…

Danger Mouse Showtime

…:…

Melvins Showtime

…:…
Soundcheck
No Info
Set incomplete
I Like Porn

Sky Pup
Set Range
Circulating Recordings
N/A
Uncirculated Recordings
It is not known whether this show was recorded, no tapes have surfaced to date.
Notes
The trio was originally called Brown Towel, but the promoter misheard Buzz over the phone and spelled their name as Brown Cow on the flyer.
Kurt recited poetry over improvised music by Dale (on drums) and Buzz (on guitar), including some early versions of Melvins songs.
"Kurt was just jumping around the stage reading, singing, and screaming," according to Dale.
Press Reviews
Memorabilia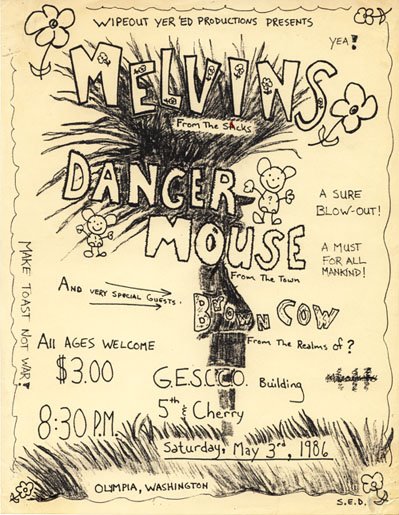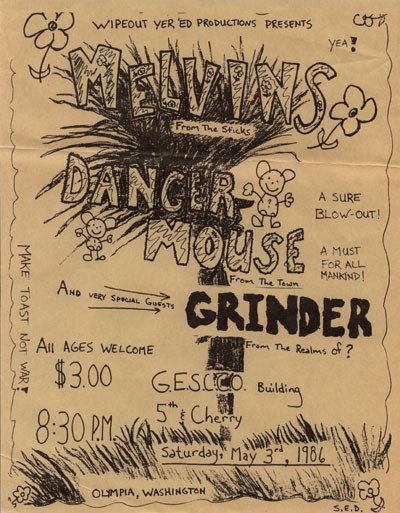 ---