October 21, 1990 - Studio 3, BBC Maida Vale Studios, London, UK
LIVE NIRVANA SESSIONS HISTORY October 21, 1990 - Studio 3, BBC Maida Vale Studios, London, UK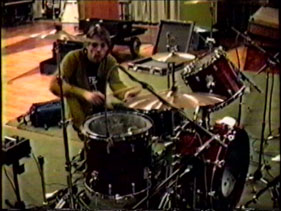 Artist
NIRVANA

Kurt Cobain (vocals, guitar)
Krist Novoselic (bass)
Dave Grohl (drums)
Crew
Dale Griffin (producer)
Mike Engles (engineer)
Fred Kay (assistant)
Soundcheck
[U] Jam

Grohl solo on drums

[O] Jam

Cobain solo on drums
Set
[O] Son Of A Gun
[O] Molly's Lips
[O] D-7
[O] Turnaround
Transmission
1990-11-03, BBC Radio 1, The John Peel Show
Best available sources
Source ID
Quality
Complete
Runtime
Lowest Gen
Tracks Featured
Notes
SBD #1
10.0
0:10:48
Official CD (Nirvana BBC Sessions, Promo CD)

Son Of A Gun
Molly's Lips
D-7
Turnaround

While all songs fade-in on this promo CD, copies with the fade-ins reversed are widely available in trading circles.

SBD #2
8.5
0:02:26
Unofficial CD (Down With Me)
AMT #1 CLIP a
8.0
0:01:10
VHS(X)>DVDR

Footage shot inside the live room includes Dave Grohl and Kurt Cobain taking turns on the drums. Footage shot inside the control room shows Mike Engles working at the console, while the drum track to Son Of A Gun plays over the monitors.

AMT #1 CLIP b
8.5
0:00:10
Official DVD (With The Lights Out)

Less complete than AMT #1 CLIP a, but of superior quality overall.
Notes
NIRVANA returned to BBC Maida Vale Studios in 1990 in slightly altered form - gone was drummer Chad Channing and in his place, the redoubtable Dave Grohl. Little else was different though, recalls session producer, Dale Griffin, they settled in to the studio environment easily again and we were soon down to the nuts and bolts of recording without trauma or temper tantrum or stamping of feet - not even from me! (1)
MV3 was a large orchestral studio, It was a little odd to see a compact, hard-hitting trio like Nirvana lost in the folds of one of 'Auntie's' larger recording spaces, says Griffin, but it was a pretty good-sounding room and worked well for rock bands, with a big selection of microphones and a fully equipped control room, SSL computer-aided recording console and a good array of 'fairy dust' units. (1)
This time around, Kurt was a little more concerned that his vocals should be overdubbed, rather than use a live vocal track, Griffin remembers. There did seem to be more of an urgency with this new line-up of the band, though tempered with that easy, laconic thing at which American musicians excel. (1)
References
Griffin, Dale, 2003. Personal communication with Alex Roberts.. ↑
---
---