THE LIVENIRVANA COMPANION TO OFFICIAL RELEASES:
From The Muddy Banks Of The Wishkah (Geffen Records)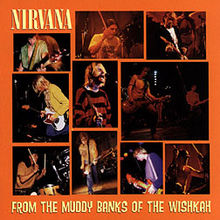 Released: 10/01/96
Releases: Released on vinyl (2 LPs, in a single sleeve), cassette and CD.
Additional Information: Nirvana's third release to enter the Billboard chart at #1 and their fourth #1 album. The liner notes were written by Krist Noveselic. They contain errors, as detailed in the CD guide to this release above. Side four of the vinyl version contains additional stage banter which is transcribed in the vinyl guide above.

About this release, Dave Grohl, in a interview (from the interview CD 'Foo Fighters In Conversation' on Chatback) said:
Interviewer: What do you think of the live album, the Nirvana live album that came out? Were you happy with the result?
Dave Grohl: Yeah I thought it was cool, I thought it was pretty cool. I mean there were so many songs, like ... so many tapes ... and so many songs, just so much stuff we could have released and we released one thing ... the just live thing. Yeah I thought it was good ... I mean I have live tapes at home that are better than that, but those are mine! (Laughs).
Interviewer: Did you have much input in so far as what songs are going on the album?
Dave Grohl: Yeah, Krist ... Krist and I ... Krist actually did most of the pick and choose and I think he did a really great job, but yeah, ultimately we had like total control over what was happening.
---