THE LIVENIRVANA COMPANION TO OFFICIAL RELEASES:
Smells Like Teen Spirit (Geffen)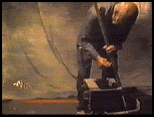 Filmed: 08/17/91
Released: 09/91
Location: GMT Studios, Culver City, CA
Director: Sam Bayer
Additional Information (largely from Michael Azerrad's book, 'Come As You Are'): Filming began at 11.30 in the morning and it took about eight hours in total and cost $33,000. Those who attended the gig two days previously at the Roxy were invited to attend. It was also announced on the local college radio station (KXLU) to get the necessary numbers for the video. The janitor featured (Rudy Larosa) was the janitor of the directors' appartment block. Several ideas of Cobain's idea for the video were vetoed by the director (whom the band dubbed 'Jethro Napoleon', because he had a "little Napoleon complex"). For example, Cobain wanted "really ugly overweight cheerleaders" and "just a couple of guys too", as a reaction to the typical prom-queen image. He also wanted the kids to run out the gym and start smashing things up and wanted them to empty their wallets into a big bonfire. Another idea he had was the burning of effigies in a big bonfire in the gym. The last scene where the janitor walks by a bound and gagged principal was also part of a larger scenario, but this was cut in editing. CAYA also notes that Cobain was unhappy with many other aspects of the video. For example he was unhappy with the look of the gym, feeling "it looked too contemporary" and the backgroup particularly irritated him, "it reminded him of those bland backgroups used in asprin commercials or Time-Life infomercials". Cobain eventually persuaded the director to get everyone to come down from the bleachers and mosh. The joyous moshing was in fact real, the result of the kids' boredom at the video shoot and Bayer's dictatorial manner. Kurt actually re-edited the final video and added a close-up shot of his face at the very end, which Bayer protested about. The intention behind this was to finally show Cobain, who until this point in the video appeared shy and reclusive.
This video wins the 1992 MTV Music Video Award for Best Alternative Video.
---