THE LIVENIRVANA COMPANION TO OFFICIAL RELEASES:
Icon (Universal Records)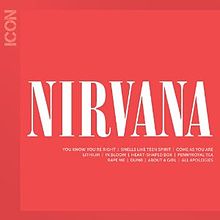 Released: 31st August 2010

Releases: CD only

Additional Information: NIRVANA's second "greatest hits" compilation. Part of the Icon series by Universal Music Enterprises which featured greatest hits releases "from 30 major artists spanning rock, pop, R&B and country". Interestingly it does not include any tracks from NIRVANA's first album 'Bleach' which may have been done to avoid having to pay fees to Sub Pop.


Song:
Date Recorded:
Studio:
Album:

You Know You're Right

January 30, 1994

Robert Lang's Studios - Seattle, WA
NIRVANA

Smells Like Teen Spirit

May-June, 1991

Sound City Studios - Van Nuys, CA
Nevermind

Come As You Are

May-June, 1991

Sound City Studios - Van Nuys, CA
Nevermind

Lithium

May-June, 1991

Sound City Studios - Van Nuys, CA
Nevermind

In Bloom

May-June, 1991

Sound City Studios - Van Nuys, CA
Nevermind

Heart-Shaped Box

February 14-March, 1993

Pachyderm Studios - Canon Falls, MN
In Utero

Pennyroyal Tea

February 14-March, 1993

Pachyderm Studios - Canon Falls, MN
In Utero

Rape Me

February 14-March, 1993

Pachyderm Studios - Canon Falls, MN
In Utero

Dumb

February 14-March, 1993

Pachyderm Studios - Canon Falls, MN
In Utero

About A Girl

November 18, 1993

Sony Studios - New York, NY
Unplugged In New York

All Apologies

November 18, 1993

Sony Studios - New York, NY
Unplugged In New York
---