THE LIVENIRVANA COMPANION TO OFFICIAL RELEASES:
Bleach - 20th Anniversay Edition (Sub Pop Records)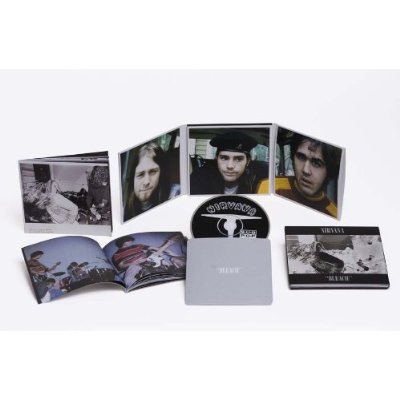 Released: 3rd November 2009
Releases: CD, regular vinyl (black) and limited edition vinyl (white)
Additional Information: Reissue to celebrate the 20th anniversary of 'Bleach'. Features a 13-track remaster of the 'Bleach' album (remastered from the original tapes by 'Bleach' producer Jack Endino) as well as NIRVANA's live performance at the Pine Street Theatre recorded on 9th February 1990.
Both the CD and vinly releases include a booklet with never before seen photographs of the band plus other pertinent images from NIRVANA Sub Pop years (for example, the original session tapes, a scan of NIRVANA's Sub Pop contract, etc.). In relation to the vinyl release it is not known precisely how many copies of the limited edition white version were produced.
NOTE: the live show included on this release was circulating amongst traders prior to this release from an alternate soundboard source and whilst the version on this official release does sound better unfortunately the between-song banter has been cut.

CD ONE/SIDE A
Song:
Date Recorded:
Studio:
Blew
December, 1988
Reciprocal Studios, Seattle, WA
Floyd the Barber
January 23, 1988
Reciprocal Studios, Seattle, WA
About a Girl
December, 1988
Reciprocal Studios, Seattle, WA
School
December, 1988
Reciprocal Studios, Seattle, WA
Love Buzz
June-September, 1988
Reciprocal Studios, Seattle, WA
Paper Cuts
January 23, 1988
Reciprocal Studios, Seattle, WA
Negative Creep
December, 1988
Reciprocal Studios, Seattle, WA
Scoff
December, 1988
Reciprocal Studios, Seattle, WA
Swap Meet
December, 1988
Reciprocal Studios, Seattle, WA
Mr. Moustache
December, 1988
Reciprocal Studios, Seattle, WA
Sifting
December, 1988
Reciprocal Studios, Seattle, WA
Big Cheese
June-September, 1988
Reciprocal Studios, Seattle, WA
Downer
January 23, 1988
Reciprocal Studios, Seattle, WA
CD TWO/SIDE B
Song:
Date Recorded/Venue:
Intro
02/09/90 - Pine Street Theatre, Portland, OR, US
School
02/09/90 - Pine Street Theatre, Portland, OR, US
Floyd The Barber
02/09/90 - Pine Street Theatre, Portland, OR, US
Dive
02/09/90 - Pine Street Theatre, Portland, OR, US
Love Buzz
02/09/90 - Pine Street Theatre, Portland, OR, US
Spank Thru
02/09/90 - Pine Street Theatre, Portland, OR, US
Molly's Lips
02/09/90 - Pine Street Theatre, Portland, OR, US
Sappy
02/09/90 - Pine Street Theatre, Portland, OR, US
Scoff
02/09/90 - Pine Street Theatre, Portland, OR, US
About A Girl
02/09/90 - Pine Street Theatre, Portland, OR, US
Been A Son
02/09/90 - Pine Street Theatre, Portland, OR, US
Blew
02/09/90 - Pine Street Theatre, Portland, OR, US
---