February 7, 1994 - Madrid, ES
LIVE NIRVANA INTERVIEW ARCHIVE February 7, 1994 - Madrid, ES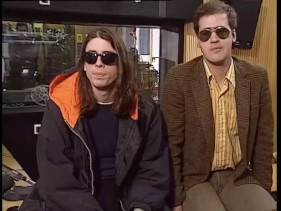 Personnel
Interviewer(s)

Joaquín Luqui

Interviewee(s)

Krist Novoselic
Dave Grohl
Sources
| Publisher | Title | Transcript |
| --- | --- | --- |
| Canal+ | El Gran Musical | Yes |
Transcript
Dave: I think that people just listen to music. I dunno, it's hard to say because, you know, the whole "Grunge" music came out… it's like, we don't sound like Alice In Chains and Alice In Chains doesn't sound like Pearl Jam, really, and then Pearl Jam doesn't sound like us… so, I think it more- I think it was more of an image… I dunno, it just wasn't "Heavy Metal"… nobody knew what to- you know, you had to call it something…
Dave: I think now is more stressful than the past.
Krist: You think so?
Dave: Sometimes. It goes back and forth. I mean, you know…
Krist: Stress is relative, too…
Dave: I had to learn how to count, because I'm so rich!
Krist: And what about that morning cup of coffee?
Dave: [whistles] Ooooh, yeah. [laughs]
Krist: Now our bags are on time!
Dave: And I have so much luggage because… I have so many nice clothes!
Dave: We stand behind Kurt's lyrics 100%.
Krist: [laughs] And, you know, things like cynicism… I think cynicism is passé, because cynicism is hip and… I've just been looking around and been really optimistic about a lot of things, you know? It seems like people tend to be cynical and dismiss a lot of things, but it's like a dead end trap. It's fun to be cynical, or to be comical or humorous about bad things in the world, but you can only go so far.
Dave: Yeah, he's really great. He's really fun to watch. Plus, it makes it a lot easier for Kurt, because Kurt doesn't have to concentrate so much on playing, so he can be really sloppy and then, you know, you can just turn Pat up.
Dave: A few…
Krist: A few, yeah.
Dave: Just a couple. We're still- we don't know what we're gonna do, yet, either. It's kinda- it's up in the air right now. It's still a mystery, to us.
© Los 40 Principales, 1994