January 25, 1992 - Sydney, AU
LIVE NIRVANA INTERVIEW ARCHIVE January 25, 1992 - Sydney, AU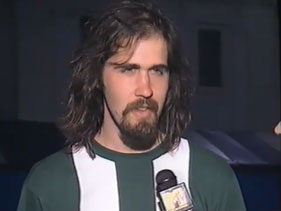 Personnel
Interviewer(s)

Richard Wilkins

Interviewee(s)

Krist Novoselic
Sources
| Publisher | Title | Transcript |
| --- | --- | --- |
| MTV Australia | TBC | Yes |
Transcript
Krist Novoselic: We opened for the Red Hot Chili Peppers, uh… we were touring the US playing 300-seat clubs, touring Europe playing small places… like, "Hey, you're record's platinum!" Y'know, it's like, "Wow," we're playing these small clubs, so… it's just always been that way… it's fun!
MTV: So what's next- what's next for you? I mean, obviously you'll be touring on with this record for a considerable period of time, then are you thinking of recording soon? Or?
Krist: Yeah, we're gonna do, like, a uh… fun record for Sub Pop. We are contractually obliged to give them an LP, but it doesn't have to be like a proper LP, it can be like outtakes, it can be kinda songs we've been kicking around, and it's gonna be… it's gonna have a sense of humor, it's gonna be… experimental.
© MTV Networks, 1992