November 25, 1991 - Amsterdam, NL
LIVE NIRVANA INTERVIEW ARCHIVE November 25, 1991 - Amsterdam, NL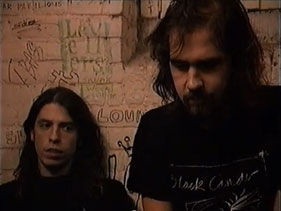 Personnel
Interviewer(s)

Bram van Splunteren

Interviewee(s)

Krist Novoselic
Dave Grohl
Sources
| Publisher | Title | Transcript |
| --- | --- | --- |
| VPRO | Onrust! | Yes |
Transcript
Grohl: I dropped out of high-school, I didn't go to college.
Novoselic: We're all drop-outs.
van Splunteren: Yeah? Is that so?
Grohl: Yeah.
Novoselic: Kurt's a middle-child, that's why he's so maladjusted.
Grohl: [laughs]
Novoselic: See, I'm the oldest…
Grohl: And we all come from divorced families…
Novoselic: … he's the baby…
van Splunteren: Is that so?
Novoselic: I got a lot of my ideas from listening to early punk rock, reading fanzines and just gathering literature - underground literature - and talking to people of different persuasions, talking to people who just dwelled on one issue, like talking to somebody who's just totally into animal rights or talking to somebody from the Socialist Worker Party, y'know?
van Splunteren: How does it feel now to have penetrated with your group into the commercial system with your record? In a way, you've made a big penetration there, having your own record in the American Top 10…
Novoselic: Yeah, I haven't really come to grips with it yet. We've been in Europe ever since everything's happened…
Grohl: We haven't been back to American since this whole thing's blown up, so we really don't know how insane it is there yet…
Novoselic: The tour was booked months ago, so we're playing small halls - where we would have played before any of this would've happened - so we can't really tell what's changed, but…
Grohl: If anything, it sort of gives me a little faith in the "consumer," y'know? Hopefully if so many more people are receiving our record, maybe they'll get something out of it, and this will be the first time they've been exposed to anything different…
Novoselic: They'll hear our band and they'll say, "Wow, I really like where these guys are coming from." And we'll say that we like bands like Sonic Youth, or Dinosaur Jr., or L7, or Hole, the whole underground scene where we come from is just so right-on… and maybe that's a way we can justify why we pursued this so far, on this level… is to maybe open doors, some doors that have been opened for us by bands who have made dents, that have preceded us…
Grohl: And it's the kind of stuff that sticks in your head, because the songs are so simple and basic and sort of stark…
Novoselic: Yeah, they're really basic songs, just pop.
Grohl: Just like the children's songs you learn when you're a kid, you remember those all your life 'cause they're so simple.
© Bram van Splunteren/VPRO, 1991