Inside The Horror Movies:
The Horror Movies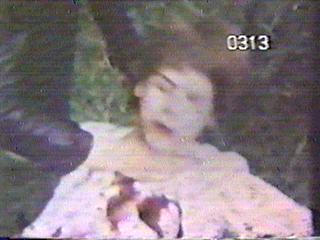 This (aproximately) 10 min. pillar of weirdness has come to be known as the "Horror Movies." To be fair "Horror Movies" is a term I made up a while back and it just seemed to stick (the segment is actually untitled). I have also heard this montage called "Kurt's Bloody Suicide," but that is a little morbid, so for the purposes of this guide I will refer to this peice of footage as "The Horror Movies." The actual generation of the segment on this video is unknown. Mike Ziegler has a 3rd generation copy of this but is not trading it, and says that all circulating copies are much more generated than his.
In 1984 Kurt Cobain, Dale Crover, and Krist Novoselic recorded this video on the streets of their hometown, Aberdeen, WA. Using Krist Novoselic's Super 8 camera the three (and possibly more) filmed a slew of seemingly random events, and a few pretty disturbing structured ones.
The video switches from scene to scene very quickly, so it is hard to map out the exact content of this 10 min. video, but the following is a list of just some of what you will find in this video montage:
The first shot is of a turtle crawling around, followed by a bloody hand
Kurt Dressed in a Mr. T Mask worshiping pentogram (PIC01) / (PIC02) / (PIC03). Eventually a young kurt in his mask will pour a large amount of (fake) cocaine onto a surface and snort it. (PIC06) / (PIC07) / (PIC08)
Scary looking female (religious?) statue (PIC04) / (PIC05) / (PIC24). This statue also appears to be drawn on a concert poster that is reproduced on page 83 of the book Come As You Are: The Story Of Nirvana.
A dog being stabbed with a fake knife.
Kurt getting shot with a fake gun. Interesting pyrotechnic effect that causes stage blood to spray everywhere.
A picture of somebody masturbating to people passing on the street.
Clips of this video montage appear briefly on a NIRVANA tribute aired during the 1994 MTV Video Music Awards. It should also be noted that although none of these scenes have any sound, the version of this collage that came directly from Dale Crover, has Melvins songs dubbed in the background.
NOTE #1:
An interesting little bit of information came to me in the form of an email from Jamie Ahearn. He wrote, "I noticed something interesting in the stills from the "horror movie" footage that you might have noticed. The mask the person wears in this picture is the same mask Kurt is tossing around at the very end of the Sliver video, filmed something like 8 and a half years later. I guess Kurt found it in his garage as they were filming the video there." Thanks alot Jamie! I encourage anybody who has similar information about anything on this site to email me at aa@livenirvana.com
NOTE #2:
Other than Dale, Krist, and Kurt there are short clips of Matt Lukin and Dale Crover's mother in the video.
---