IMPORTANT DOCUMENTS:
NIRVANA Bio (DGC)
HISTORY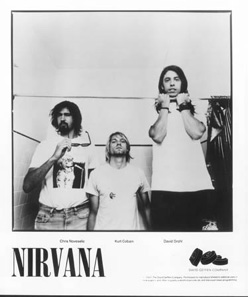 "Punk is a musical freedom," says Nirvana's guitarist-singer Kurt Cobain. "It's saying, doing and playing what you want. In Webster's terms, nirvana means freedom from pain, suffering and the external world, and that's pretty close to my definition of punk rock."
As for Nirvana's music, it can be described as hard rock riffing with punk rock energy — all within a pop sensibility. "By definition pop is extremely catchy, whether you like it or not," Cobain says. "There are some pop songs I hate but can't get them out of my head. Our songs also have a standard pop format: verse, chorus, verse, chorus, solo, bad solo. All in all, I think we sound like The Knack and the Bay City Rollers being molested by Black Flag and Black Sabbath."
Drummer Dave Grohl agrees: "Yeah, I can see an inverted cross draped with plaid scarves drawn by Raymond Pettibon while he's whistling 'My Sharona'." Adds bass guitarist Chris Novoselic: "Pop is the strongest of our sensibilities 'cause god knows we don't have any common sense."
Nevermind (DGC Records), the band's second album but first on a major label, comes two years after the release of the highly-regarded Bleach album. Why the hiatus? Novoselic explains that "It was a lot like job hunting. You get up but it's already 2:30 so you blow it off until tomorrow. Well tomorrow a friend comes over and hangs out all day, so 'Tomorrow'. Well now tomorrow is Saturday so you'll forget about it until Monday morning, or afternoon, or whenever you get up, you see."
The procrastination bug didn't affect the band touring-wise however. There were three major U.S. tours plus excursions twice to England (where Melody Maker magazine called Nirvana "one of the most visceral, intense and beautiful bands on the face of the planet") and once to elsewhere in Europe. During the latter, the band found itself in Berlin during the Fall Of The Wall. "People from the west were handing out fruit, flowers and champagne to their eastern countrymen," Cobain recalls. "We saw one man who cried at the sight of bananas!"
In the fall of '89, the band released an EP, Blew, which featured "Love Buzz" and "Blew" off Bleach plus two new songs, "Been A Son" and "Stain." November '90 saw the release of the "Sliver"/"Dive" single. (There are also an assortment of outtakes and live recordings available on the sleazy bootleg market.)
Nirvana's beginnings are the typical two-bored-art-students-dropping-out kind of story. Cobain, a sawblade painter specializing in wildlife and seascapes, met Novoselic at the Grays Harbor Institute of Northwest Crafts. Both had come from nearby Aberdeen, Washington, a small, secluded logging community 70 miles southwest of Seattle. Novoselic had a passion for gluing seashells and driftwood on burlap and, he remembers, "I liked what Kurt was doing. I asked him what his thoughts were on a macaroni mobile piece I was working on. He suggested I glue glitter on it. That really made it!" The incident formed the basis of Nirvana's musical magic.
At the beginning, the band played underground punk shows in Tacoma but it soon moved up the food chain — quickly gaining an audience, critical acclaim and a record deal with Seattle-based Sub Pop, which released the single "Love Buzz"/"Big Cheese". Nirvana's album debut was 1989's Bleach.
"We were just amazed we were putting out a record," says Cobain. "We were, and are, still learning. But we've never cared much for professionalism as long as the energy was there. Like our live shows: We're out of tune and use a lot of feedback. That's not on purpose or because we don't care, we're just musically and rhythmically retarded and we play so hard that we can't tune our guitars fast enough."
After a long succession of drummers, four since the band's conception in '87, and the appearance of Bleach, Grohl joined in the fall of '90. "His hard pounding and snappy vitality fits the band perfectly," concedes Novoselic. Grohl explains how he was taken back a bit by the band. "They wore berets, sunglasses, sandals and had goatees. Chris walked around with these poetry books by Rod McKuen and Kurt would do interpretive dances while Chris recited McKuen's poetry." It didn't take Grohl too long to fit in. Now they all enjoy collaborating on burl clocks and latch hook rugs in their off time.
In 1990, Nirvana exited Sub Pop (which also has boasted Soundgarden and Mudhoney) for the more substantial DGC Records. DGC's success with Sonic Youth, another major underground band making the transition to a wider audience and with whom it's toured, brought Nirvana to the label and the band's mutual A&R executive Gary Gersh.
"Being on a major label has had no affect on Nevermind," insists Cobain, "we except that it was nice to have the freedom to take more time. We recorded Bleach in six days. We did this one in three weeks. Otherwise, it's the same as if we put it out ourselves. Sure, we felt under pressure to stay underground. We're experiencing the typical independent-band-going-onto-a-major-label-punk-rock-identity-crisis. That's why we're vomiting on stage and smashing our gear more than ever now — all for the kids!"
The diversity of Nevermind is obvious. From the punk rock rantings of "Territorial Pissings" to the acoustic "Polly" and everything in-between, the album reveals a mixed bag of songs that are hard rocking, melodic and infectiously catchy enough to make you pay some mind.
Says Cobain, "People have opened up an appreciation of hard rock in punk and it's great that they've fused together. Now it's time to appreciate the pop side. Attitude is one thing but a good song is the most important thing, it's the only way to really touch someone."
Therein lies the rationale behind the title Nevermind. "No one, especially people our own age, wants to address important issues," Cobain continues. "They'd rather say, 'Never mind, forget it.' On one hand, we're not a political band — we're just some guys playing music — but we're not just another mindless band asking people to forget either. There's no rebellion in rock 'n' roll anymore. I hope underground music can influence the mainstream and shake up the kids. Maybe we can change some kid's life and stop him from becoming a welder or a sleazy lawyer. Maybe what we need is a new generation gap."
Maybe what we need is Nirvana.
THE RECORD
Kurt Cobain, lead singer/guitarist/songwriter of Nirvana, recently talked about the songs on Nevermind (DGC Records), the band's second album but first on a major label. Produced by Butch Vig and Nirvana, the album was mixed by Andy Wallace and recorded in Los Angeles in May 1991.
"Teen Spirit": "My generation's apathy. I'm disgusted with it. I'm disgusted with my own apathy too, for being spineless and not always standing up against racism, sexism and all those other isms the counterculture has been whining about for years."
"In Bloom": "Reproduction."
"Lithium": "People who are secluded for too long go insane and as a last resort they often use religion to keep alive. In the song, a guy's lost his girl and his friends and he's brooding. He's decided to find God before he kills himself. It's hard for me to understand the need for a vice like that but I can appreciate it too. People need vices.
"Come As You Are": "An old-fashioned love song coming down in three-part harmony."
"Something In The Way": "Love — plain and simple."
"On A Plain": "Love again."
"Drain You": "Come to think of it, almost all the songs on the album are about love — or confusion, which usually is the result of love. Outcries of confusion about love and not understanding relationships, not just with your mate but with anybody, with yourself, with animals, etc."
"Stay Away": "Bitching and complaining."
"Breed": "Getting into Middle America. Marrying at age 18, getting pregnant, stuck with a baby — and not wanting it."
"Lounge Act": "Love, problems."
"Territorial Pissings": "In the animal kingdom, the male will often piss in certain areas to claim his territory, and I see macho men reacting towards sex and power in the same way. I'd like to see these lost souls strung up by their balls with pages of scum manifesto stapled to their bodies."
"Polly": "Rape."
---