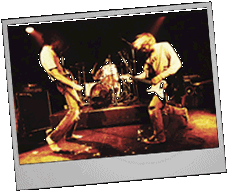 This guide is aimed at those collectors who seek to obtain both the best sounding and most complete versions of every NIRVANA concert.
This guide will list whether any original, silver bootleg CDs are worth buying or obtaining a copy of, or whether collectors should ignore those releases and obtain a better version through trading circles.
ORIGINALLY MAINTAINED BY: Adam Andrews
MAINTAINED BY: Andreas Magnusson
CONCEPTUALISED BY: Charles Furth
CODING BY: Matt Empson
ORIGINAL CONTRIBUTORS: Kris Sproul, Matt Seward, Rob Landis, Roar Aasheim, Tim Bucknall, Javier Diaz
LAST UPDATED: February 07, 2009
Copyright © 2001 - Present:
Adam Andrews and Charles Furth
All rights reserved.